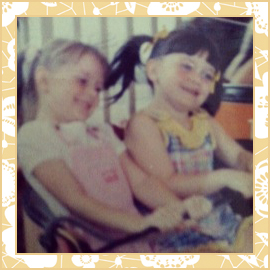 You know that splendid moment when your lips meet your morning latté? Sure, as sisters we don't always see eye to eye, but there's one thing we both definitely agree on- creating bliss with coffee. We've spent nearly the last five years of our lives envisioning, creating and managing our adorably sweet coffee shop, LynMarie's Coffee on Main, glued to each other's sides. Always lovers of coffee we discovered this career path by chance, but quickly made it our mission to open up a shop in our small, quaint town. We're specialty coffee enthusiasts, lovers of eyelash curlers and pink lipstick, huge supporters of anything patterned or floral, connoisseurs of the perfectly foamed cappuccino and we always hold our sisterly bond dear to our hearts. We can't wait to meet you, and to whip up a fab drink to make your day a little more blissful.
Stephanie Lyn
I am the younger, borderline procrastinator, "brunette sister" and most definitely the more laid back and care free one of the two. Like one of our lattés with a crumbly scone, my easy going attitude pairs perfectly with my big sister's obsessiveness. Not many could stand the many (many) phone calls a day about every detail of any detail, but that is why we are such a dominant duo… We perfectly harmonize together and we're gaga over our little business. Along with making coffee magic on main street of the small country town I've lived all my life, I also teach high school English and coach cheerleading at my alma mater high school (do you see a pattern here? I love my roots and haven't steered far from them!). With a hot vanilla latté with extra foam in hand, I also love to bake and create clever DIY projects for my business, home and others. Tyler, my fun loving husband of two years, and I live just on the outskirts of town with our little bubba, Ernest Urban, (yes…he was distinguishly named after Mr. Urban Meyer- Go Bucks!) a miniature schaunzer that truly "rules the roost." There, we are celebrating the birth of our first child, A GIRL! Emerson Barbara!  She's the cutest, sweetest little peanut ever, and being a Mom is THE best job in the whole wide world.
Jessica Marie
I'm the older, wiser sister (only by about 19 months, ha!) but most definitely the analyzer, perfectionist, faltering, ocd big sis. Pretty much I like to make things more difficult than what they usually are, which makes me so thankful for my easy, laid back sister. I comprise a degree in Early Childhood Education and a license in cosmetology, but like they say, on the way to a dream sometimes you get lost and find a better one. To say that I love coffee and our little shop is quite the understatement. I obsess about it daily. Sometimes this obsession even wakes me out of a dead sleep; but I wouldn't trade it for the world. Personally, I can think of no career better than one surrounded by the swirls of crème in a coffee mug, or fluffy whipped cream adorning an affagato. Outside of the coffee world, I'm the loving wife to my handsome husband, Tyler (yep I'm married to a Tyler too- go figure!), and proud mama of two impossibly sweet and adorable little ones, Reid Joseph and Harper Marie. Life as a business owner, wife and Momma surely keeps me busy, but my heart is full and my dreams are big. I'm constantly fueled by our hazelnut almond lattés, obsessed with creating, decorating and organizing, and inspired by anything with charm.