The Holidays are upon us! Are you looking for an original and tasty beverage for your holiday parties? Try our LynMarie's Holiday Mocha Punch! A yummy take on your traditional everyday punch. This punch starts with one of our festive (and delicous) holiday coffee blends as a base and incorporates chocolate (yum!) and ice cream (double yum!) to create an instant holiday favorite!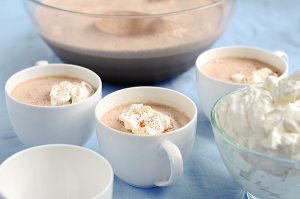 LynMarie's Holiday Mocha Punch
Serves: 12
INGREDIENTS:
4 cups LynMarie's Holiday Blend (Your choice! I prefer the Winter Fantasy)
3 tablespoons cocoa powder (I used dark cocoa powder.)
½ teaspoon vanilla extract
¼ teaspoon ground cinnamon
1 cup milk
1½ quart vanilla ice cream
1 cup (or more!) whipped cream for topping
additional cocoa powder and/or cinnamon for garnish
INSTRUCTIONS:
Make coffee base by whisking together hot coffee, cocoa powder, vanilla extract and cinnamon until combined. (If making ahead, cover and refrigerate until ready to serve.)
Combine coffee base, milk and ice cream in a large punch bowl or pitcher. Stir gently until ice cream melts.
Serve topped with a dollop of whipped cream, sprinkled with cinnamon and/or cocoa powder.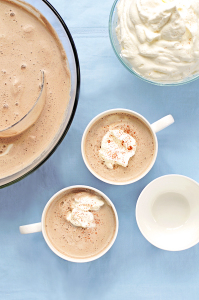 I hope you enjoy this yummy LM inspired drink as much as my family and I do! Wishing you and yours a happy holiday season!
Related posts: