Happy Wednesday, friends!  I hope you're all cherishing these last few weeks (or, dare I say days?) before the Holiday madness begins.  We've had our tree up and decorated for almost a week now, and it feels so warm and fuzzy in the house.  I wish there was a way to make these days last a little longer.
One room I always try to decorate during this time of year is my kitchen.  It sounds kinds funny, but I truly spend most of my time here, so to sprinkle it with holiday cheer is always kind of nice.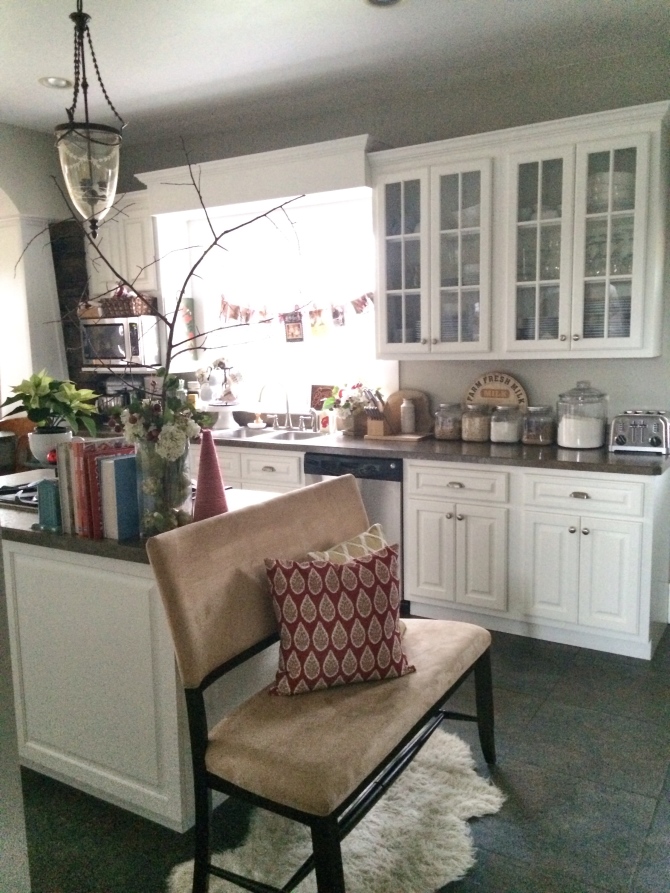 Pretty much, I purchase a few poinsettias, stick some red Christmas tree bulbs here and there, and hang a couple banners.  My favorite banner is hanging over our sink, and it's made up of our family Christmas cards throughout the years.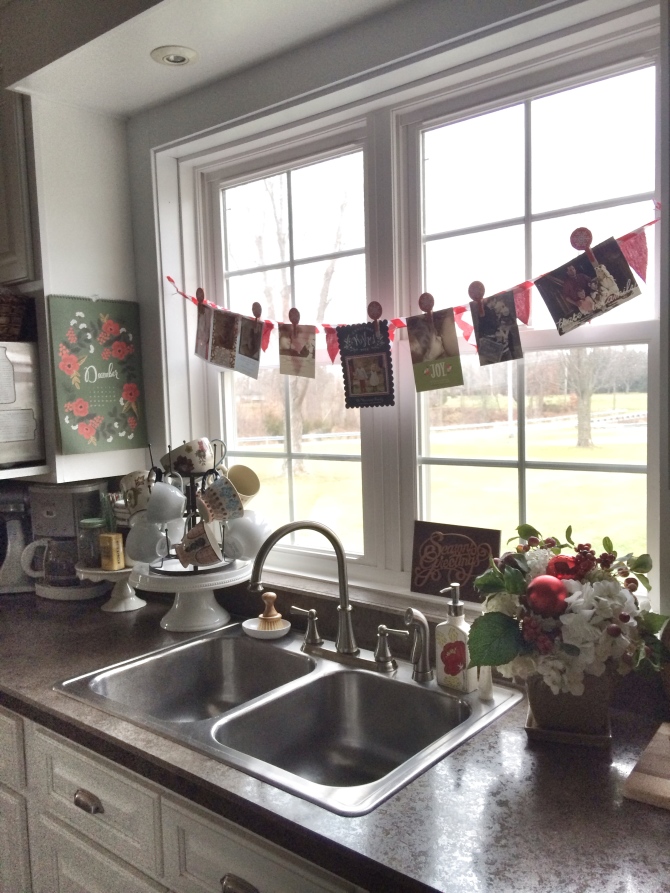 Since the banner above the sink is my favorite, "Christmas touch" to the kitchen, I'll explain this first.  I've shared this idea with a few friends and everyone seems to really appreciate and love this simple idea!  All I do is save one of our Christmas cards that we mail out to friends and family each year, and clip them to a piece of bunting (or string) with clothes pins.  I usually decorate the clothes pins to give them an extra little holiday touch.  The kids especially love looking at all of the pictures throughout the years :)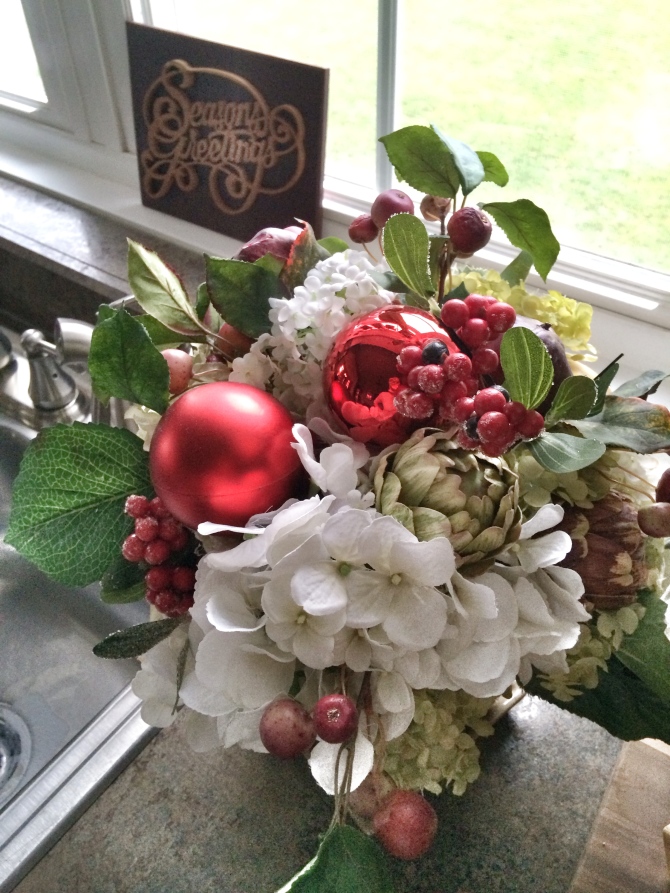 Another little thing I do is add red Christmas tree bulbs and berry twigs to flower arrangements that I already have out.  This takes about 2 minutes and can cost nothing if you're like me and save random pieces of old flower arrangements.  If not, you can find things like this practically anywhere:)
Of course I have a coffee station in my home and all I do here is add red and green paper straws to my jar.  I also always purchase a calendar from Rifle Paper Co. each year to hang in my kitchen, which always has gorgeous floral illustrations each month.  You can see part of the December page above and it truly is like a little piece of seasonal artwork.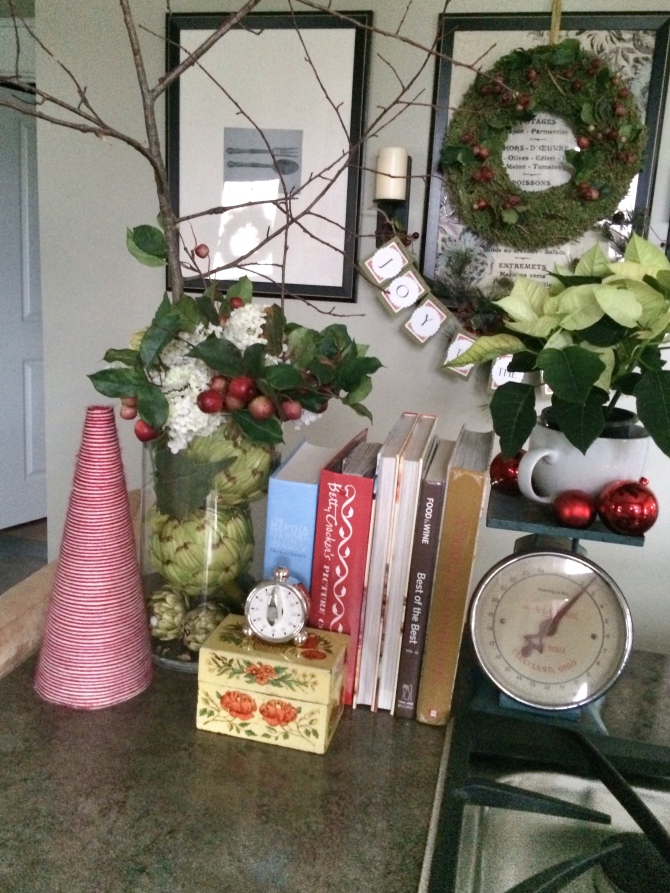 Next to the stove I always keep my cookbooks and recipe box handy.  Obviously I don't really want to mess around too much with this area, as I use these things a lot and I'm use to them being here, so all I did was add a few Christmas decorations like the red and white striped tree, the white poinsettia and the red bulbs.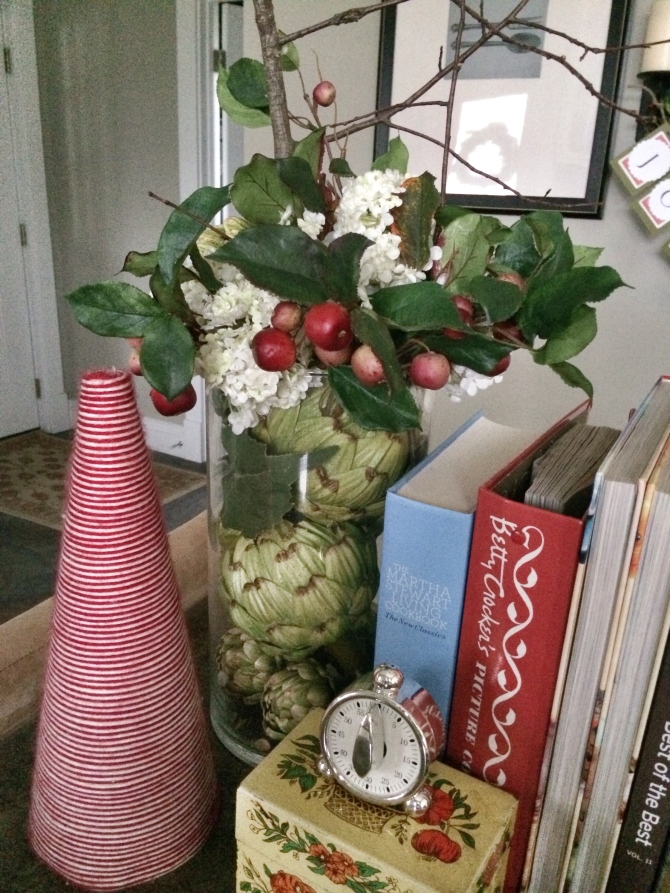 Again, I didn't go out and buy another floral arrangement here; all I did was add some red berries to the one that was currently already there (ps- don't you love my Momma's old recipe box? Its one of my favorite things in the kitchen).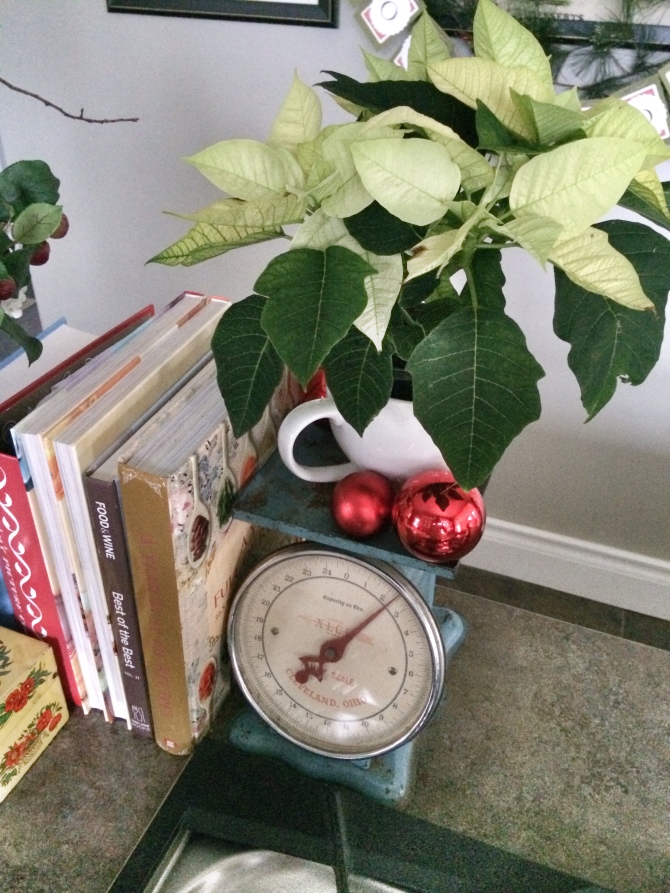 Instead of keeping the poinsettia in the bright green foil, I took it out and placed it into one of my white mugs.  To me this gives it a little classier touch.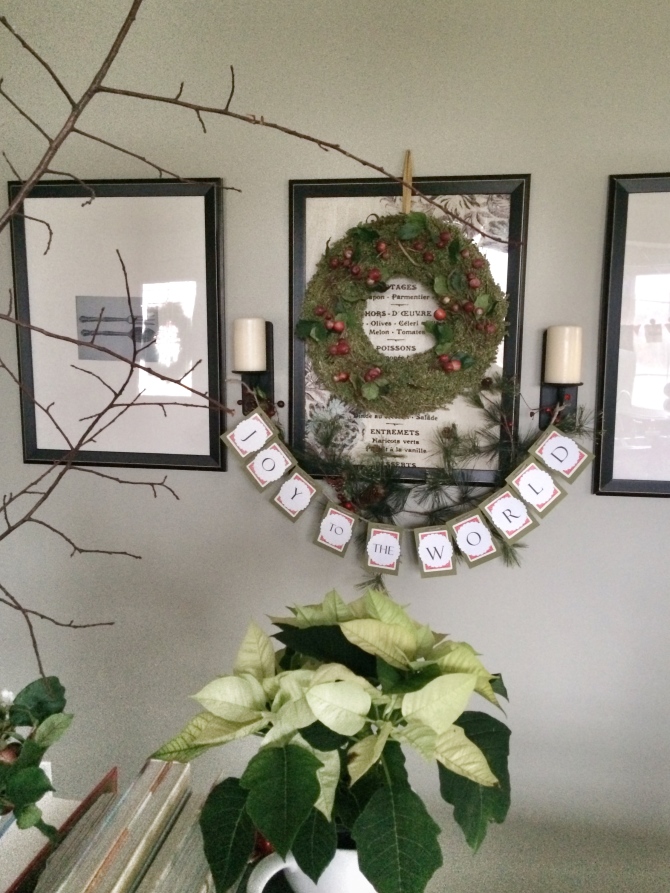 Behind the stove I have a few frames, and I added a green wreath where again I incorporated red berries to make it a little more "Christmas-y" as well as a little "joy to the world" banner that I made a few years ago.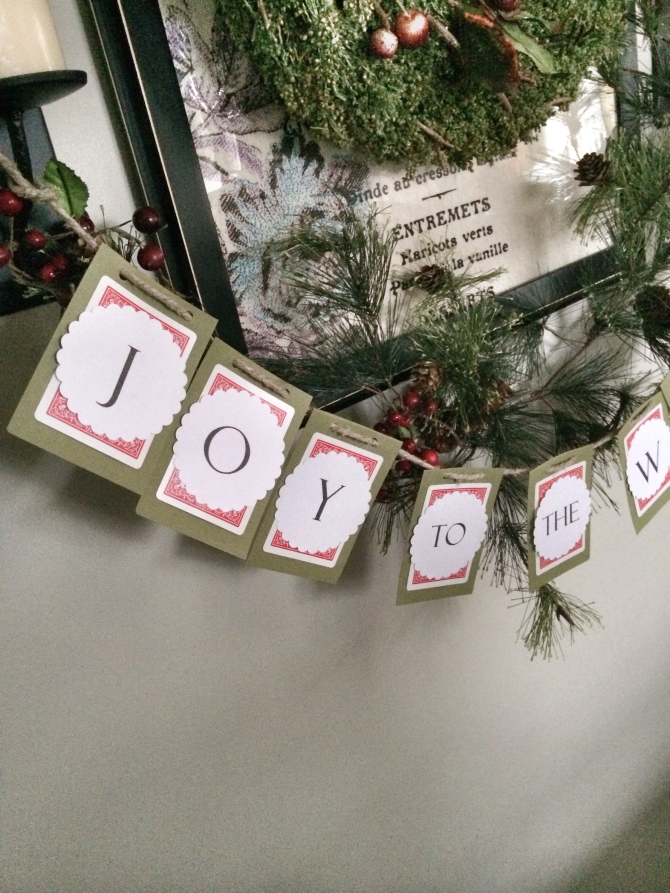 For the banner, I used green card stock, some red playing cards, and letters that I printed out from my computer that I punched out with shop's large flower circle puncher.  After you print and punch out the letters (I can't remember the specific size of the letters, but the puncher is at the shop if you ever want to borrow it while you're there!) simply glue them to the red playing cards and then again to the green cardstock.  Make two punches at the top and string through your jute string.  Bada bing, bada boom.
So there's my little take on Christmas in the kitchen.  Sorry the pictures are a bit grainy; it's been so gloomy here today and the iPhone camera can only do so swell:)
I'd love to know what you all do to add a little Christmas spirit to your kitchen!
xo!
Related posts: