It seems as though the winter season in Ohio so far has been colder and more snow filled than in year's past- don't you think?  Even though the snow is beautiful and we've been enjoying all of the fun that comes along with it, I'm already starting to get anxious for spring to begin.  It's funny because you would not believe how many people I hear this from who come into the coffee shop.  Pretty much everyone around here is ready for spring.  Buuuut as we all know, we've got a solid 2 more months of this winter stuff, so we might as well surround ourselves with things that make us happy, so we can beat those "winter blues".
I do a few little things in my home to keep things cheerful after the holiday season.  Most of these things are pretty simple and quite honestly may seem silly, but to me they keep things around here happy and bright during the long, grey filled winter months.
1:  Embrace the cold and invest in some fluffy, furry blankets and pillows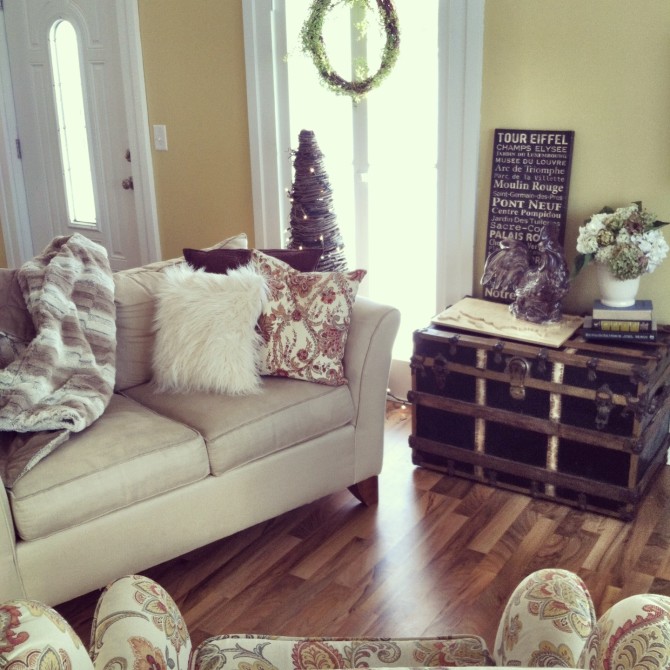 A sweet friend of mine surprised me with a faux fur blanket for Christmas.  It's the BEST to snuggle up with and for whatever reason I feel like I can pair it with some of my springy pillows and everything seems wintery and cheerful.  I also found a really cute white fluffy pillow at Walmart to add to the blanket/ springy pillow combo and when I sit in my little nook I just feel happy.  Maybe I'm just a weirdo but faux fur just makes me happy and it's definitely one thing that wouldn't make me happy during the spring and summer months, ya know?
2:  Florals, florals, florals!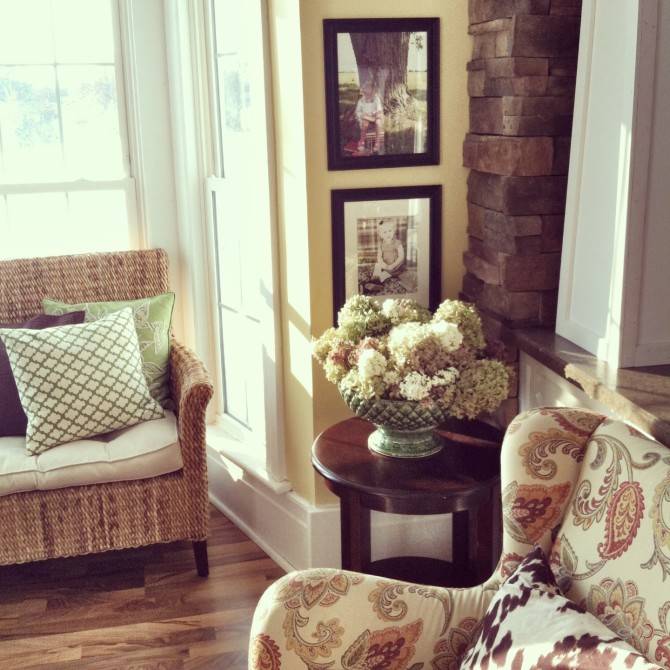 Just because it's winter doesn't means that you can only decorate with sticks, branches and snowflakes.  I wouldn't necessarily bust out all of the pale yellow tulips quite yet, but I definitely keep florals around in my home to keep things lively.  My Mom always saves hydrangeas for me each year once she does her landscaping, and I dry them and add a few silk flowers to the bunch to set around the house each winter.  The arrangement in this picture is pretty big- I bought the bowl/vase from K&K and I took Styrofoam bowls (bowls, not balls- about 4) and turned them upside down to cover the bottom of the large vase.  Then, I cut the hydrangea stems and stuck them into the Styrofoam bowls until the vase was filled.  After that I took one bunch of cream silk hydrangeas and cut it apart to add within the dried hydrangea arrangement.  Since the arrangement is green, cream and that mauve/purple color, I feel like it's a bit more wintery.  I think you can make any arrangement look wintery though, just as long as some of the flowers within the arrangement are dull.  For example, if you have a really springy arrangement that you love, swap out some of the bright flowers for a "duller" ones.
3:  Freshen up your bedroom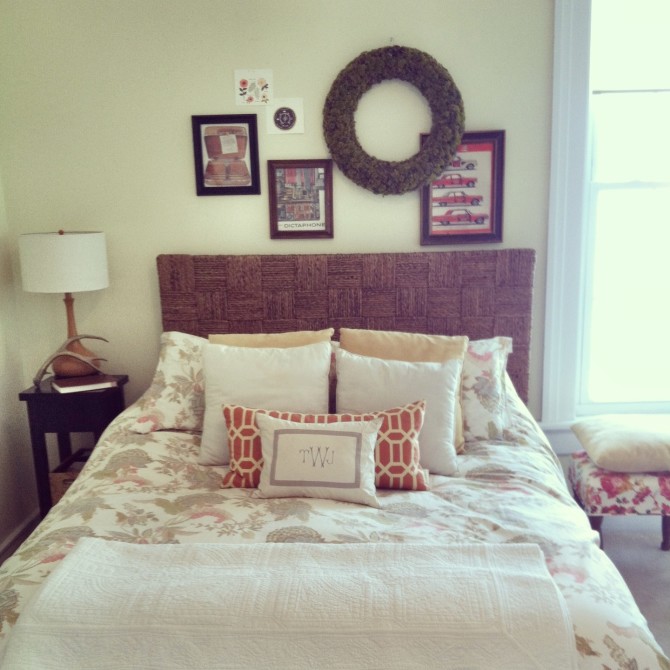 Hang some new brighter pictures, rearrange the pillows, spray paint a lamp, etc.  Whatever you can do to freshen things up is surely something that will brighten your spirits. I know most guests don't see your room, but freshen it up for you!  You don't have to go out and buy something new- just be creative and rearrange some of the items you already have in your home.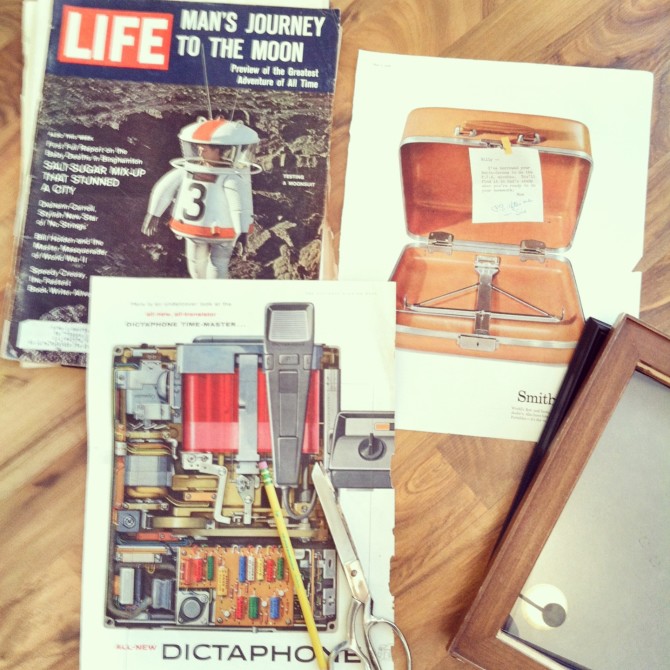 My favorite thing to do is to frame different advertisements and pictures from old magazines.  I have a few old LIFE magazines (you can purchase something similar on amazon or ebay for $5.00-10.00) and they are FILLED with amazing vintage and retro advertisements and articles that in my opinion are wayyyy cooler than anything you can buy in the stores (not to mention a page will cost you like a nickel to frame).
4:  Set up a coffee station
When I think cold, snow filled days, I think COFFEE!  Set up a cute, easily accessible little area in your kitchen for a coffee station.  All you need is a cake stand, a mason jar, some striped straws and some good coffee! Again, perhaps I'm a huge weirdo, but if you're going to be cooped up inside all winter you might as well drink some coffee and you might as well feel special while you're doing it.
How do you beat the 'winter blues'?  I would love to hear more ideas!  We've got to embrace winter people, because we've got two more long months.
xo to you all!
Related posts: