I'm proud to live in a small town.  A place where businesses happily bestow shoe polished windows cheering on our high school team, a place where jerseys on game day are considered dress code, a place where football on Friday nights is as familiar as breathing, and a place where the sound of the victory bell is the sweetest music you'll ever hear.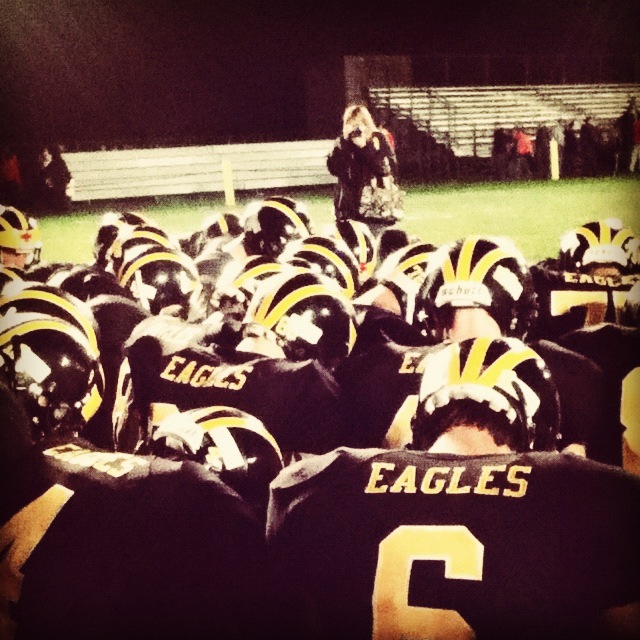 Even back when my sister and I were dreaming about the idea of opening a coffee shop we knew one thing for certain, our drinks would be named after this small little town that we love so much.
So on this Friday morning as I drink my coveted Eaglicious, I feel compelled to write about our drinks and why they're named what they are.  So, I present to you,
The Stories Behind our Specialty Drinks
All of our specialty drinks have a story.  Why?  Well we don't believe in naming one of our awesome drinks after nothing.  We love that they not only taste delish, but each drink has a history and a purpose.  Take a look, and maybe you'll find a new favorite.
Farmer's Sweet Tooth a honey roasted pecan latté
Named after the hard working harvesters in our area.  This drink pays tribute to the farmers who plant and harvest the hundreds of acres in crops that surround our village.
Buttery Hess a buttery toffee latté
Nutty Hardware a trail mix latté
These drinks highlight the previous occupant of the Monroe house, Hess Hardware.  The hardware store resided here for most of the 20th century.  Many of the original characteristics of the building still remain, such as the brick walls and pressed tin ceiling.
Minty 1868 a white chocolate mint cookie mocha
Named after the year our ancestors and those before us founded the village of Monroeville.
Eaglelicious a white chocolate caramel mocha
Named by the students of Monroeville High School, this drink represents Eagle pride and spirit, and the support behind the school from the community.
Stieber Fever a chocolate chip cookie mocha
Sure to cause a sweet fever of deliciousness, this drink was chosen by brothers Logan and Hunter Stieber.  Both Monroeville grads and champion wrestlers, it's not a secret that our town is pretty proud of these two and their sweet accomplishments.
Marsh Mocha a toasted marshmallow white chocolate mocha
This drink is named after Marsh Field, where the Monroeville Eagle Football team has taken the field for many decades.  Here on crisp Friday nights, people in the community of all ages gather to cheer on their team.  Here, both memorable victories and devastating losses have been had, but the sense of community and unity are always present.
Muddy Dam a chocolate peanut butter mocha
Monroeville is known as "the best little town by a dam."  This dam is located beside Route 20 and on the Huron River.  When the steam runs rapidly over the edge of the dam, it causes a collision of muddy water on the other side, resulting in a muddy dam.
Village Glee a German chocolate mocha
Having a population of only 1500, this drink represents the small, close-knit community of the village of Monroeville.    Generation after generation families have resided here, growing up with a peaceful, friendly and rural life style.
Monkeyville a banana split mocha
The renowned dub of Monroeville.  This drink is named after the nickname given to Monroeville many years ago by surrounding area high school students.
Walt was Here a white chocolate raspberry mocha
This drink is named after a brick found while restoring the building, and then used to build the shop's coffee bar.  If one looks closely, the brick has a signature on it reading "Walter."  The craftsman of this brick is unknown, but his work will forever be a part of our bar.
The Sparky a white cake mocha
This drink celebrates the life of local fallen hero, Jason Sparks.  Upon graduating high school from Monroeville in 2003, Jason enlisted in the U.S. Army.  His life will always be celebrated, as Jason was a remarkable person who dedicated his life to the betterment of our community and our country.
Hope you all have an awesome (long) weekend!  See you at the game, GO Eagles!!
xoxo
Related posts: